Plant Risk Assessment Services
Any employer with plant/equipment has obligations under OHS/WHS legislation to provide them in a safe condition. A crucial part of the safety process is carrying out of hazard and risk assessment of the plant/equipment. The purpose is to identify the risks and hazards associated with operation. In turn, this introduces safe operational controls to safeguard the operator sand personnel working around the plant/equipment. From the tipper truck to front end loader plant risk assessment, we're here to help.
The qualified plant risk assessors at Pro Training Australia are experienced in a wide range of industries including civil construction, mining, transport, forestry, agriculture and oil and gas. We thoroughly inspect with regards to and report on the current requirements stated in the OHS/WHS legislation. Our reminder service ensures we contact you in advance of the plant risk assessment (PRA) expiry, giving you the peace of mind that your plant and equipment are safe and compliant. Is it time for your next assessment?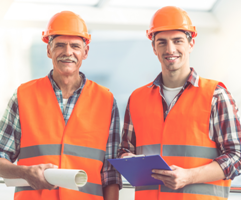 Our assessment process
Plant risk assessments can be carried out on-site by the experienced Pro Training Australia team. Victorian state legislation provides guidance on typical control measures required around areas including, but not limited to:
Operational controls

Emergency stops
Warning devices
Guarding
Insulation
We'll assess your equipment or workplace at the specified time, create your PRA document, provide any accessory products to enable compliance (if required) and process your transaction all in the ONE visit.
We carry a range of accessories that are needed to comply with current laws in Victoria. If you need a safety sticker or wall decal, we carry them with us onboard. That means you don't have to stop work to go and find what it is you need in order to be compliant.
No matter the outcome of the assessment, your equipment can be working safely in no time.
Front end loader plant risk assessment & more
Methodical, cost-effective, and required for safe operation, our plant risk assessment helps worksites, factories, industrial locations to stay safe and operational all-year-round. Pro Training Australia assessors are experienced on the plant and will thoroughly assess every aspect during your assessment. We have a wealth of experience in a variety of plant/equipment and machinery, including excavator, tipper truck and front end loader plant risk assessment.
The areas covered in a comprehensive PRA report include, but are not limited to, entanglement, crushing, cutting and suffocation. This extends to plant risk assessment of excavator or tipper truck equipment, and much more. Ensure that your workers remain safe on-site and that you're free from litigation with our thorough and in-depth solutions and services. Let Pro Training Australia help you maintain an efficient and streamlined working environment.